History
Our History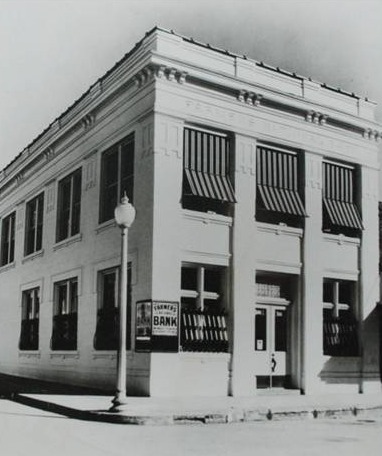 Brenham National Bank began its existence in 1933 as Farmers National Bank at the corner of Main and S. Baylor streets. In 1949 the bank moved across the square into the building which housed the Day Cotton Company and the Double Dip Ice Cream Co. That location was renovated and expanded many times to meet the growing needs of the bank. In 1975, during a major remodeling event, Congressman J. J. "Jake" Pickle participated in the placement of a Time Capsule in the floor of that building and it remains there today.
Speaking at the grand opening was former governor of Texas, John B. Connally. In 1980, Brenham National Bank was the first to bring ATM service to the community as part of the PULSE network. In 1986, we moved to the current and much larger building at 2211 South Day Street.
Just because we've been around for a long time doesn't mean that we are old fashioned. We still have the old fashioned kind of customer service where we care about our customers, but our banking services employ the latest in technological advances. Today, many of our customers never enter the lobby. They use our 8 lanes of drive-in banking, our ATM's, and manage all of their accounts from home or business using our Total Access Internet Banking and Cash Management system.
Telephone Banking, Mobile Deposit and the Total Access Internet Banking System allow customers 24 hour access to their accounts from almost anywhere in the world. The motto beneath our logo says, "Our People, Our Service, Our Best", and it means what it says. We endeavor to provide the BEST in financial services to all of our customers at all times. We want to exceed the expectations of our customers.
We still make banking house calls when they are needed. If our customers can't get to the bank, we take the bank to them.
We invite you to stop by for a visit. Our main bank is located at 2211 South Day Street in Brenham. We also have a a full service branch in College Station at 2470 Earl Rudder Freeway and in Chappell Hill at 9005 Hwy US 290 West. If you can't come to the bank, give us a call and we'll come to you.